Coexistence Wiki is a community site that anyone can contribute to. Discover, share and add your knowledge!
Trending articles
Popular categories
View full main page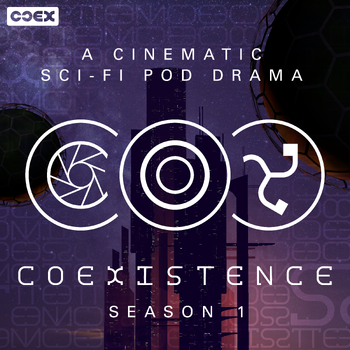 Coexistence is a sci-fi mystery thriller series rating as a #1 science fiction podcast on Apple Podcasts UK in January 2020, and nominated for Best Fiction in the British Podcast Awards 2020.
The production stars an international cast, featuring voice talent from the UK, Russia and the USA. Coexistence is an immersive audio drama best experienced on headphones. Listener discretion is advised.
SPOILER WARNING. This wiki delves deeper into the world and mysteries of the Coexistence dramatic universe and contains details up to, and including, Episode 08.
SYNOPSIS:
Earth's shattered future.
Humanity's natural resources have been exhausted.
When our planet is devastated by an atomic cataclysm, a new life emerges for a cross-section of humanity within the walls of a towering megastructure known as Tier City.
A self-appointed governing body of world-leaders, called The Universal Council, control this New Earth. Tier City residents are force-fed Network propaganda by an influencer known only as The Preacher.
Rachel is a young drone delivery pilot with ambitions to escape the confinement of her accommodation pod by becoming an interstellar pilot.
As civilisation collapses, a select number of humans are being evacuated from Earth in off-world vessels called Bio Domes. Meanwhile, a rebel faction is plotting to attack the domes in a last ditch act of defiance.
Can Rachel guide the last remnants of society in their struggle for survival, or will the clash of coexistence between Mecha, rebel faction, and extraterrestrial result in our total extinction?
Coexistence will return in 2021.
LISTEN TO COEXISTENCE ON YOUR FAVOURITE PODCAST PLATFORM
All 15 episodes are currently available to binge on Apple Podcasts, Spotify, Stitcher Acast, and wherever you get your podcasts.
CATEGORIES & GLOSSARY: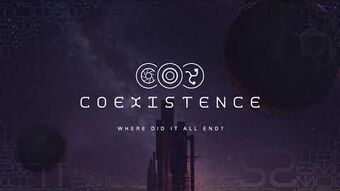 PRODUCTION:
Coexistence was written and directed by Colin Carvalho Burgess and is created and produced by Dominic Nangle and Colin Carvalho Burgess. The series is a production by Coex Studios, London.